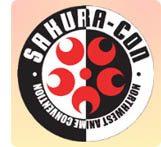 So, if you hadn't pieced it together by now (between the page peel that has been running in the upper right corner of the site for a month and the constant talk of me being in Seattle), Sakura-Con is this weekend!
What is Sakura-Con? A fantastic anime convention taking place at the Washington State Convention Center in downtown Seattle! This is the third year they've been kind enough to have me out as a guest, and I've always had a great time doing it.
I'll be doing a few panels over the weekend, including a Halolz panel Friday at 2pm in Panel Room 4 (I believe) and a Webcomics Panel Friday at 3pm (maybe?) I'm not 100% sure, check your schedule!
But yeah, Sakura-Con is a great anime show and if you are in the area this weekend I highly recommend you stop by! We will even have a new secret Ninja-Bot shirt based off of a recent Halolz submission! Is it yours? ONLY ONE WAY TO FIND OUT! (or wait until I tell everyone on here)
Oh wait… the other way you could find out is by going to Anime Boston (which is ALSO this weekend) and stopping by our Ninja-Bot booth there! Anime Boston is a pretty decent show as well, and while I will not be there (obviously) feel free to harass my team of volunteers and maybe also pick up a shirt as well? They don't care for shirtless people in the Hynes Convention Center so you should really make sure you have plenty of upper body clothing! (Lower half is completely optional.)

| | |
| --- | --- |
| | Posted by Shawn Handyside on April 2, 2010 · 1:23 AM |