Well it's been a while since I did any kind of write-up after a show, but you know what? MAGFest was a great show! Despite the fact that I had to man the Halolz booth most of the time, here are some of the highlights of my crazy four day weekend.
First up here's a quick picture of our booth. I thought it came out pretty sharp for this show, especially from all the additional lighting I setup (which I was pretty much forced to run out and buy Saturday morning after realizing how dark our corner of the hotel was). It was kind of fun to work some lighting into the booth though… I've never done it before and it really makes things stand out in a low light convention hall.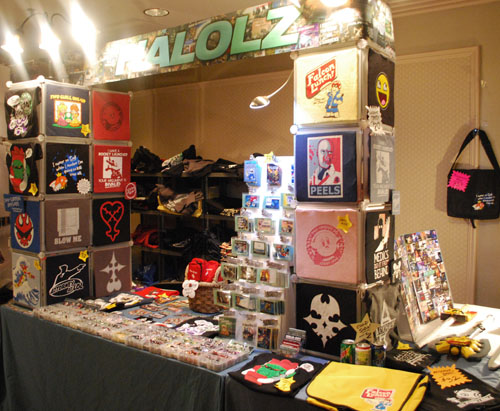 Also with me were my bros Dave (SNAFU Comics) and Brandon (YuGiOh Abridged) who helped us take over this particular corner of the show. Once I got used to it I actually really liked this weird corner configuration, although having to tell everyone that Dave would "be back later" got a bit annoying. I think he might have been having too much fun at this show because he was always off having fun instead of watching his booth! (must be nice)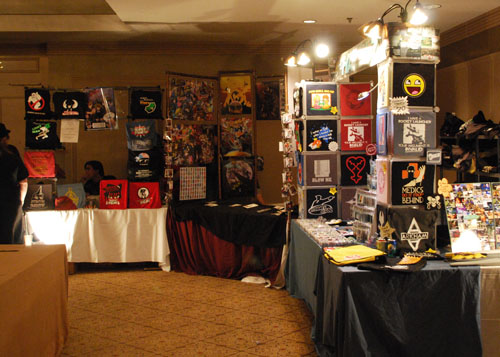 So yeah, what kind of stuff happened at MAGFest? Well I didn't get away from my booth much, but did I get to meet some cool folks, and catch up with some I haven't seen in a while! Including…
Brentalfloss
(Finally got to meet him, cool guy! Guess he'd heard of Halolz from the traffic we've been sending over!)
The Megas
(Well actually only had a chance to talk to Greg this time, but if you didn't know The Megas are my favorite video game band!)

Metroid Metal
(Got to talk to them briefly, these guys have a fantastic album out which I picked up at VGXPO)

Omonomopeia
(These guys make some neat video game crafts, we may be carrying some of them soon over at Ninja-Bot!)
Also Stanworth and I were on a webcomics panel with Brian Wilson and Dave Lister which was actually not too bad (typically I don't enjoy webcomic panels… long story). Thanks to everyone who came out for it!
And there were quite a few epic moments at the show, I was trying to find some photos or video of them on the internets but at the moment I'm not having much luck. One was an amazing Metal Man cosplayer rocking out during The Megas show, another was the premiere of a live-action Mega Man movie (which I didn't end up seeing but Dave told me it was pretty impressive). Oh and I was able to take this baby home…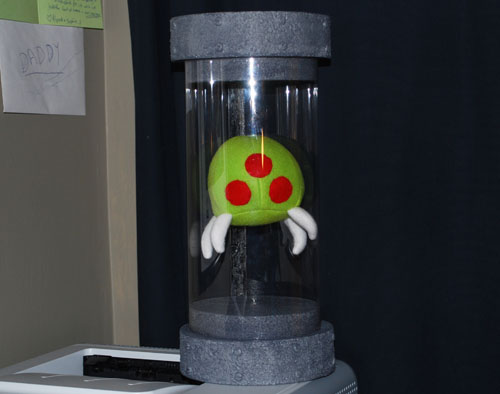 Not only was I joking that this baby metroid was my second child, but I even had it strapped it into the car seat on the drive back to Alyssa and Sophie. I'm such a good father! >__>
Well anyway, MAGFest… awesome. I will totally be there again next year! A great show with a lot of stuff to do and a lot of great attendees! I'm looking forward to next year!

| | |
| --- | --- |
| | Posted by Shawn Handyside on January 6, 2010 · 7:14 PM |