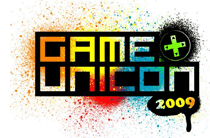 It's time for some convention madness again, as I get ready for Game Unicorn 2009! Wait, unicorn? No I meant Unicon! I don't know what a unicon is exactly, but I do know that it's a video gaming convention outside of Boston, and that's good enough for me!
Be sure to swing by if you want to play some vidjeo games, and also check out some of the cool bands performing (including two of my personal favorites Freezepop and The Megas!) And of course I'll be there too, with my mountain of stuff and my new t-shirt design (which I haven't even officially announced on the site but everyone knows it exists and is up for preorder since I stuck a giant banner about it on the side of the site!)
Hope to see some of you there!

| | |
| --- | --- |
| | Posted by Shawn Handyside on August 18, 2009 · 7:16 AM |