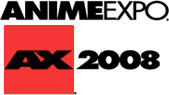 Not sure if it really needs to be mentioned again… but I'm at AnimeExpo in L.A. this weekend with Scott and Dave! Two cons in California in a row? INSANITY.
As always I will have a wide variety of t-shirts on hand (including two brand new designs that are not available yet, and one that is coming out of retirement!) and of course a pile of Halolz posters. Also I should have some sort of new poster based off of the Brawl artwork I've been working on the last month (not 100% sure what that's going to look like though). Anyway, if you're going to be there you should track me down! I wish I could tell you what booth I'll be at, but I have no idea! I just know it's an exhibitors booth so I assume it will be where all the action is on the main floor.
Also Mike is indeed still alive… he has a post queued up for later today! Hopefully he can get some more up this weekend while I'm out of town!
Guess that's about it. FRINK OUT!

| | |
| --- | --- |
| | Posted by Shawn Handyside on July 3, 2008 · 12:39 PM |