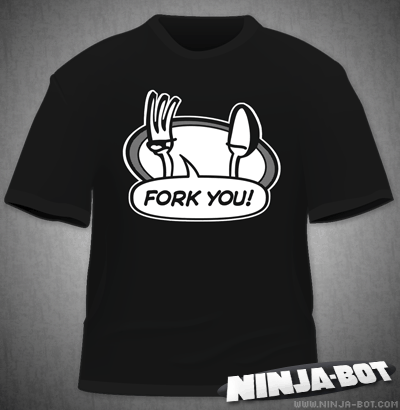 Oh hey! Remember back in November when I said you could buy some cool new shirts, but then they mysteriously disappeared? Well good news, they're back! First up is "Fork You!" which is now up for sale in both mens and womens sizes! Here's the description:
If there's one thing Fork can't stand, it's losing an intellectual debate to his pal Spoon. But still, there's no excuse for resorting to vulgarity!
From the Staccato filler comic that everyone loves (or just loves to hate) comes a t-shirt that lets you show your love with pride. Also you might be able to offend some old people with poor eyesight!
That's right, live the dream!
Remember, all proceeds go to the hosting of this site… and feeding me candy.

| | |
| --- | --- |
| | Posted by Shawn Handyside on March 27, 2008 · 9:05 AM |